Parallels RAS
Remote Application Delivery and VDI can be complex and expensive—unless you are one of the thousands of businesses that use Parallels RAS to remotely deliver applications and desktops to their employees.
Easy to Use, Flexible, and Secure
Parallels RAS is a cost-effective application delivery and VDI solution, that allows your employees to access and use applications, desktops and data from any device. Easy to deploy, configure, and maintain, Parallels RAS provides organizations with a seamless application delivery and VDI experience while reducing TCO and improving security.
Seamless End User Experience
Deliver applications, desktops, and data to any user, regardless of operating system or device. Parallels Client is available for Windows, Linux, Mac®, iOS, Android, Thin Client, Chromebook™, Raspberry Pi and any HTML5 web browser. Service Provider organizations such as MSPs and ISVs can brand Parallels Client for Windows and HTML5. On-the-go access allows employees to be as productive as if they were working from the office.
Technology Agility
rallels RAS flexible and scalable architecture enables organizations to quickly adapt to the continuous workplace changes and demands for new applications or desktop types.
Straight-forward Management
Parallels RAS Console provides a single pane of glass for IT to easily manage, and scale the complete infrastructure. Traffic light indicators provide instant snapshots on the health of each component.
Easy Migration
Migration from 3rd part solutions such as Citrix XenApp, VMware Horizon, or Dell vWorkspace is easy, straightforward, and interruption-free for employees. 
Download Citrix Xenapp Migration Tool
Monitoring and Reporting
The Parallels RAS monitoring and reporting service transforms raw data into visual reports that can show traffic and resource usage from Microsoft RDSHand VDI. These reports can assist in future development of the organization infrastructure. Unlike other solutions, this feature is available with a standard license with no additional cost. Learn More
Pervasive Security
Parallels RAS contributes to securing corporate assets from data leakage and malicious activity with highly granular permission policies, combined with SSL and FIPS 140-2 encryption as well as multi-factor and smart card authentication.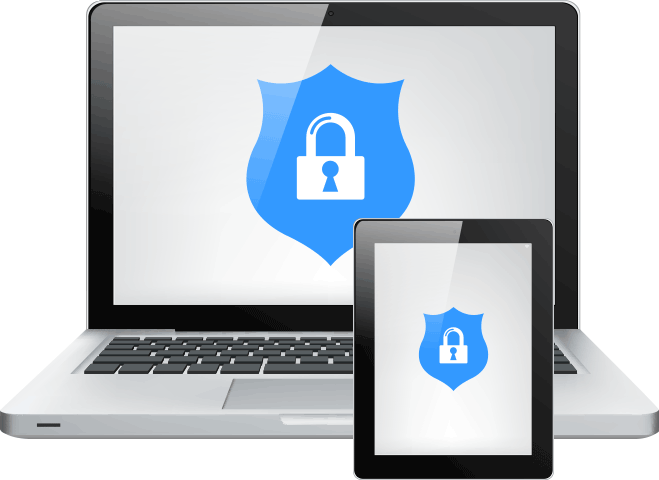 What's New in Parallels RAS 17
Version 17 improves UX by utilizing AI capabilities, extends security by adding a TOTP MFA log-in option, and further simplifies IT task management while leveraging RDS 2019 technology.
Extending MFA options with Google Authenticator
Extending MFA options with Google Authenticator
Parallels RAS 17 integrates with yet another popular multifactor authentication (MFA) mechanism, Google Authenticator, allowing organizations to add an extra layer of security without any additional cost.
To plan against the rapid increase of cyberattacks, businesses can leverage this highly secure time-based one-time password (TOTP) solution to protect data from identity theft.
AI-based session pre-launch for ultra-fast login
Version 17 introduces artificial intelligence (AI) based session pre-launch technology, allowing users to access their virtual workspace instantly, increasing the user experience, and boosting efficiency and productivity.
Through Parallels machine learning (ML) capabilities, user login habits are analyzed and sessions are pre-launched in memory, significantly reducing login time while distributing the back-end workload to prevent log-on storms during peak hours.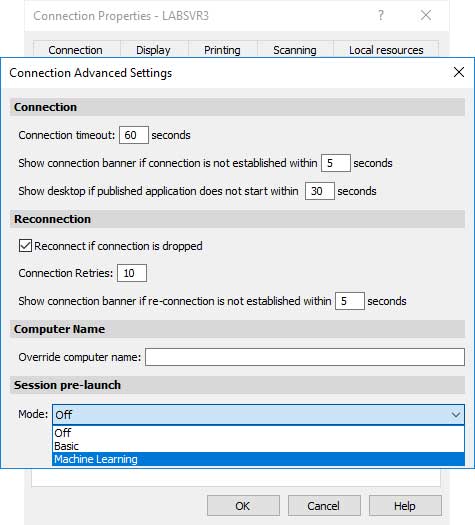 Windows Server 2019 support
As the technology is rapidly evolving, Parallels RAS 17 leverages the advanced features and support that Microsoft Windows Server 2019 bring with it, including Remote Desktop Services (RDS).
Such improvements make IT management easier though simplified RD license management, a better user experience with enhanced and optimized video stream quality and lower bandwidth requirements, and the support of Microsoft Office 2019.
Parallels RAS components such as Publishing Agent, RAS Gateway, RD Session Hosts, and VDI hosts can be hosted on Microsoft Windows Server 2019. Parallels RAS can provision, scale, and maintain virtual desktop infrastructure (VDI) and Remote Desktop Session Host (RDSH) on Microsoft Hyper-V 2019.
Web-based console (Parallels RAS helpdesk tool)
Version 17 introduces a new web-based console to provide more flexibility for IT administrators. It allows admins to monitor the Parallels RAS infrastructure and perform management tasks such as:
View RAS Environment Servers and components and their status
Hosts' information and resource utilization
License usage information
User sessions management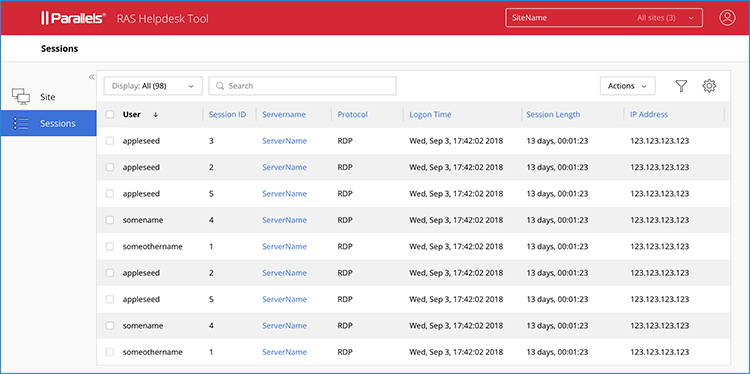 From this web-based console, helpdesk staff can troubleshoot any user session issues and assist users using the following tasks:
Disconnect the session
Logoff from the session
Message the user
View and manage running processes within the session
Parallels RAS 17 provides REST API allowing organizations to integrate with existing orchestration and management solutions.
Automate your service distribution through the Parallels RAS integration with REST API. Deploy, configure, and maintain Parallels RAS remote applications and desktops through a seamless automated interface.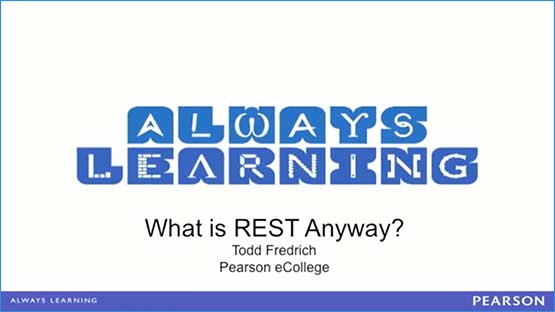 Turn-key VDI solution with Scale Computing HC3 support
Parallels RAS supports Scale Computing's HC3, a new hyperconverged infrastructure solution that combines compute, storage, virtualization, backup, and disaster recovery in a single appliance. Read More.
HC3 uses Scale Computing's own KVM-based hypervisor, HyperCore Operating System (HCOS), positioning itself as a cost-effective, easy-to-use hyperconverged solution—qualities that perfectly match those of Parallels RAS.
This new capability essentially allows Parallels RAS to spin up and manage RAS VDI VMs through Scale Computing HC3 API, making VDI solutions faster, more affordable, and easier to use.
Structured management with granular administrator permissions
Version 17 provides more granular options, such as View, Modify, Add, and Delete permissions for IT administrators on specified RAS components such as:
RAS infrastructure servers
RDSH management
Session management
Client management
IT administrators can configure specific permissions to different administrators and delegate control of Parallels RAS objects, offering flexibility of management while keeping security high.
Parallels RAS Console server tools
Parallels RAS 17 enables instant access to a predefined set of management tools directly from the Parallels RAS Console, such as network utilities (Netstat/Telnet to and from hosts), Windows Service Management Console, reboot/shutdown actions, and much more.
In addition, custom tools can be configured and made available directly from the Parallels RAS Console to further facilitate day-to-day IT management.
Centralize, streamline, and speed up Parallels RAS farm server's maintenance using the Parallels RAS Console as a single point of management. Save time by performing remote actions quickly and centrally on several servers, reducing IT management overhead.
Enhanced HTML5 white-labelling capabilities
Parallels RAS 17 enhances the white label capabilities of the Parallels HTML5 Client and the Parallels Client for Windows. White-labelling capabilities allow for the personalization of multiple themes per site, accessible via short URLs which can be granularly customized based on customer requirements.
Such customizations include colors, logos, messages, language bars, and much more. In addition, administrators can add new items to the help menu on the Parallels Client for Windows, which can be assigned to custom commands.
Dynamic security permissions in VDI
Keep your VDI virtual machines secure by restricting access on them solely through the Parallels RAS Client.
Parallels RAS 17 introduces a security feature which dynamically grants and revokes remote access user permissions at Parallels RAS VDI log on and log off, preventing unwanted access to VDI VMs outside the use of the Parallels RAS Client.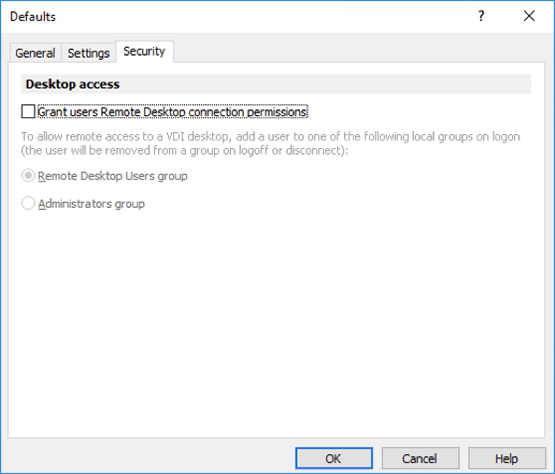 New reporting and monitoring capabilities
Parallels RAS 17 introduces new reports related to application usage and tunneled gateway sessions. Moreover, the Parallels RAS monitoring engine supports multiple RAS Farms, RAS Sites, and different virtual RD Session Groups, centralizing the monitoring across multiple RAS deployments. In addition, administrators can create custom reports, improving day-to-day management activities.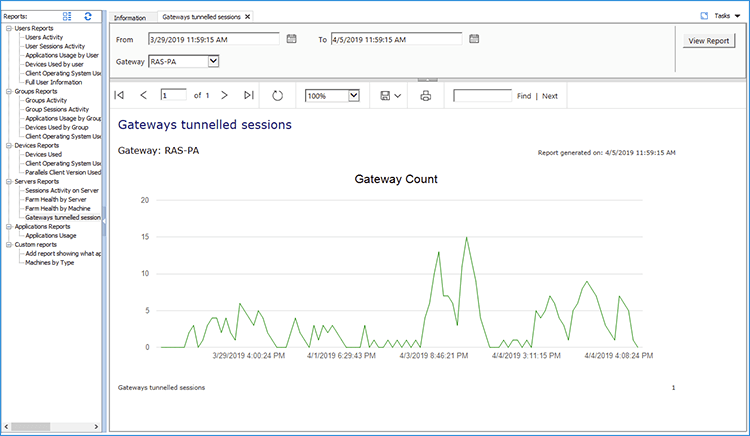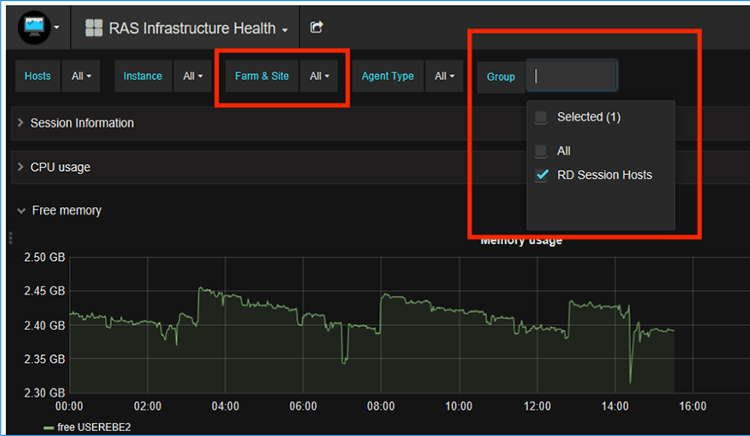 Application and Desktop Delivery
Parallels® Remote Application Server (RAS) can publish a wide range of resources—such as applications, desktops, physicals PCs, folders, and data—to any user on any device.
Technical Flexibility
Parallels RAS enables organizations to simply deploy and manage application and desktop delivery in a variety of environments, ensuring seamless service delivery and lowering total cost of ownership (TCO). Compatibility with Windows Server 2003 R2 up to 2016 ensures access to Windows applications—even legacy ones—from anywhere. Enable your organization to be more agile with a flexible architecture that supports RDSH, virtual desktop infrastructure (VDI) with Microsoft Hyper-V, Citrix Hypervisor (formerly XenServer), VMware ESXi, Nutanix Acropolis (AHV), Scale Computing HC3, and KVM.
Virtual Desktop Infrastructure (VDI)
Parallels RAS makes VDI quick, easy, and affordable. It enables organizations to deliver fully functioning virtual Windows desktops and applications that employees need. Parallels RAS allows users to be productive a nywhere by providing a Windows desktop–like experience on any device. The latest version adds significant enhancements to VDI capabilities, now supporting even more hypervisors, including Nutanix Acropolis and HPE.
Remote desktop services (RDS)
Parallels RAS streamlines the deployment and management of Microsoft RDSH, enabling administrators to quickly publish applications and desktops through Parallels RAS Console tools. Overcome the limitations of Microsoft RDSH and securely deliver Windows applications and desktops with a local-like experience to any device, including mobile and web browsers.
Remote PC and hosted desktop infrastructure (HDI)
Parallels RAS enables administrators to provide users with access to their PC remotely when they require full administrative permissions on the move. Empower your employees to access and work on their PC from any device, regardless of the PC's physical location. Moreover, Parallels RAS allows administrators to easily deliver dedicated remote PCs from an HDI, such as HPE Moonshot System and Atrust Remote PC Array.
Turbo.net containerization
Parallels RAS integrates with Turbo.net containerization technology, allowing IT administrators to package applications and their dependencies into a sandboxed container. This eliminates installations, conflicts, runtime errors, missing dependencies, and legacy-compatibility issues as the applications can run on any Windows server, no matter the underlying OS. One of the major benefits is the capability to run multiple versions of the same application from the same server.
Microsoft App-V
Parallels RAS integrates with Microsoft App-V, allowing administrators to publish packaged applications and reducing the need to remediate application conflicts while running applications on the operating systems. Application updates can be delivered from a central location, streaming the delivery directly to the servers. In addition, the use of App-V's structure RDS CALs is automatically included in the license; no separate license for RDS CALs is required.
Access Windows Applications, Desktops, or Data on Any Device
Parallels Client is a lightweight software that allows end users to work with applications and desktops published with Parallels® Remote Application Server (RAS). With Parallels Client, users can securely access remote applications and desktops from Windows, Linux, Mac®, iOS, Android™, Google Chromebook™, Raspberry Pi, and any HTML5 web browser.
Easy Deployment
Quickly enroll new users to access published applications and desktops with a single click on the autoconfiguration link. All Parallels Client settings such as printing, network, and clipboard can be centrally configured on a group basis with the Parallels RAS Client Policies.
High Performance
Parallels Client is a native application that equips employees with a seamless experience wherever they are, regardless of the connection or device they use. Improve applications' performance with built-in Parallels RAS load balancing. Parallels RAS incorporates RemoteFX graphical enhancements, delivering a superior graphics experience for employees.
Seamless UX
Parallels Client provides a local workspace–like experience on any device, keeping employees' productivity high no matter the device they use. Enable employees on the move to use the native touch gestures they know—swipe, drag, tap to click, zoom in—with any Windows application on their mobile devices.
---
Mobile – Parallels Client for iOS and Android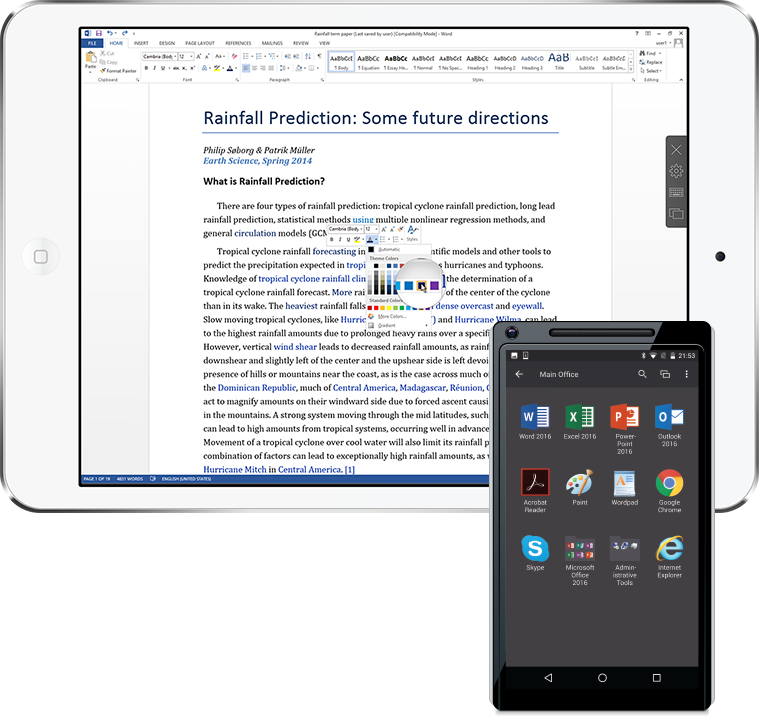 Seamless navigation
Select text or graphics with one finger, and easily drag and drop them for a seamless interactive experience. Create custom keyboard shortcuts for frequently used operations to increase productivity. Use native controls and copy and paste between remote applications—or even between remote applications and local apps on your device.
Learn More
Secure
Employees can secure the Parallels Client by adding Touch ID® or a passcode to open the application.
Password complexity
Password-complexity requirements will be visible to users trying to change or create a new password for their account, providing an easier and more user-friendly experience.
Mobile printing
Through the Printing Redirection technology of Parallels Client, iOS and Android devices can be used to print locally.
Full-screen applications
Applications are adapted to fit the entire screen and be displayed in fine detail, making it easier to interact with them. Choose either optimal readability with larger text and images, or more information with smaller text and greater detail.
Choose your mouse mode
Parallels Client has embedded three different mouse modes—Touch Mode, Dumbo Mouse, and Pointer—to match different users' requirements while working from smartphones and tablets. Moreover, iOS users can control their published applications and desktops with Swiftpoint GT Mouse, further increasing their productivity on the go.
---
Web Access – Parallels HTML5 Client

Effortlessly work with Windows applications and desktops from any HTML5 web browser, gaining immediate access without any installation. Set up instant web access with one click in the Parallels RAS Console, allowing employees to work productively from anywhere.
Learn More
Drag and drop
Parallels HTML5 Client allows users to drag a file stored locally on the device and drop it on either a specific application or a server-based desktop, further improving the UX and reducing the gap between the virtual and local workspace experience.
Parallels Client for Chrome OS
Parallels Client for Chrome OS™ creates a dynamic, web-based workspace by allowing employees to simultaneously run their Windows-based, Google, and SaaS applications. Parallels Client allows employees with Chrome OS to seamlessly access any Windows line-of-business (LOB) applications, desktops, and data over any network, while at the same time improving security and reducing endpoint management and maintenance costs.
Learn More
Customization
Parallels Client for HTML5 web browsers and Windows devices includes customization capabilities, allowing organizations to update the user interface with their branding and color scheme. Ideal for managed service providers (MSPs) and independent software vendors (ISVs), this feature enables businesses to offer customers a personalized look and feel. Different themes can be configured for individual users and groups within the active directory to reflect different departments within an organization.
Learn More
---
Thin Client
Parallels Client works seamlessly with the major thin clients, including IGEL Technology, HP, 10ZiG, Atrust, Centerm, and VXL. Parallels Client has been developed in collaboration with each thin-client vendor to ensure an optimized user experience. It allows users to have a local desktop–like experience, with instant access to published applications, desktops, and data.
Learn More
Centerm Thin Client
C91 and C10
---
Parallels RAS Client Policies
Parallels RAS Client Policies allow central configuration of the Parallels Client settings. A client policy is a set of rules defined by the administrator to manage, control, and restrict the settings options available to the users.
Learn More

Enforcing client policies
Parallels RAS Client Policy allows administrators to secure corporate data by enforcing policies based on a specific user, an Active Directory group, or even by the end user's device. IT staff can predefine and lock a users' control settings within Parallels Client, including connection, Printing, and network settings, just to mention a few.
---
Managing Windows Client
The Parallels RAS Client Manager module allows administrators to convert Windows devices running Windows 7, 8, 8.1, and 10 into a secure Kiosk-like mode without replacing the operating system. Administrators can centrally manage functions such as Power Off, Reboot, and Shadow.
Learn More
Kiosk mode
The Kiosk mode option limits users from changing system settings or installing new applications. Users can open applications only from Parallels Client, providing the administrator with a higher level of control over connected devices.
Shadow a Windows device
Shadow a Windows device to gain access to the full desktop and control applications running locally on the system, as well as any remote applications published from Parallels RAS.

Parallels RAS and Device Redirection
IT staff are often overwhelmed by the numerous helpdesk requests to troubleshoot issues related to local services such as printing and audio on published resources. Parallels® Remote Application Server (RAS) reduces IT staff workload by providing an out-of-the box, easy-to-manage, and maintenance-free local device redirection.
Provide employees with a seamless experience on published application and desktop, enabling the use of local services such as printing, scanning, audio, USB, drives, and email. For instance, users can make a server-hosted Skype call using their own headset, or work on local files through server-hosted applications.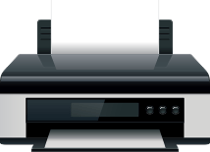 Parallels RAS Universal Printing enables users to print on the local client while connected to RDSH or hypervisors such as Citrix XenServer, Microsoft Hyper-V, and VMware EXSi.
Ready out of the box and easy to use, Parallels RAS Universal Printing increases printing performance and response time when employees use local printers with server-based desktops or virtual applications. Clients can print directly to their local printers from the session without any extra configurations.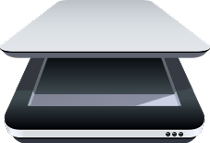 Parallels RAS Universal Scanning redirection enables users on Parallels Client for Windows to scan on the local client while accessing server-based desktops or published applications.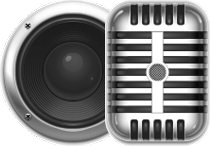 IT administrators can enable the sound input and output redirection from the local device to the remote application. For instance, employees can use their local headset in a server-based application for teleconferencing such as Skype.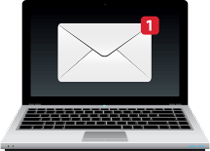 Parallels RAS URL and email redirection allows http(s) and mailto links to be opened using a local application on the client computer rather than the server's resources. IT administrators can configure a list of URLs which should not be redirected in the Parallels RAS Console.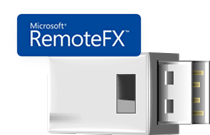 Parallels RAS fully supports USB redirection, providing users with a high-level experience and allowing specific types of devices to be used effectively in a remote session, such as:
Drive redirection allows users to access any local drive in a remote session, including USB drives.
Smart card redirection allows users to authenticate in a remote session by using smart cards and e-tokens.
Plug-and-play device redirection allows users to access PTP digital cameras, MTP music players, and POS for .NET devices in a remote session.
Input Redirection allows the use of input devices such as keyboards and mice in remote sessions.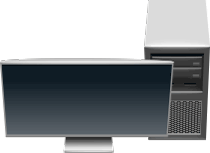 IT staff can redirect local drives from the user's device to the Parallels RAS remote session, enabling users to work on local files while using published applications. This is particularly beneficial for users who want to keep all their personal data and files on their local drive while still using remote applications on the server to open them.
Parallels® Remote Application Server (RAS) offers a wide range of features and tools to help organizations monitor and secure applications and data within on-premise, hybrid, and public cloud deployments. Security and monitoring are particularly important when deploying an application and desktop delivery solution in government, finance, and health sector environments, where data protection is an essential—and often regulated—requirement.
Pervasive Security
By delivering server-based desktops and applications from a central location, IT can easily back up endpoints, deploy and maintain security, and meet compliance regulations. Parallels RAS adds to the security advantages of centrally managed published resources with extra layers of protection. It helps organizations protect their assets with strict system hardening and a lockdown of data access.
Multifactor Authentication
A second-level authentication is enabled in Parallels RAS to provide a high level of protection with different types of security tokens for multifactor authentication. Users are required to authenticate through two successive stages to access the virtual workspace. The second level of authentication can be provided by Azure MFA, Duo, FortiAuthenticator, TekRADIUS, RADIUS, DeepNet, or a SafeNet server.
Smart Card Authentication
Parallels RAS provides an easy-to-use smart card authentication on a server-client connection, allowing organizations to authenticate users access by smart card on published applications and desktops.
Kiosk Mode
The Parallels RAS Client Manager module allows administrators to convert Windows devices running Windows 7, 8, 8.1, and 10 into a secure Kiosk-like mode without replacing the operating system. The Kiosk Mode option limits users from changing system settings or installing new applications, providing the administrator with a higher level of control over connected devices.

Encryption Protocols
Parallels RAS Secure Client Gateway encrypts with SSL or FIPS 140-2 protocol the users' connections to the farm, helping organizations adhere to data compliance policies such as PCI DSS, HIPAA, and GDPR.

Advanced Filtering
Granular filtering rules can be created to restrict users' access to the farm, adding another layer of data protection. IT staff can define several filtering rules to decide who can access a published resource based on user, IP address, MAC address, and gateway.

Data Segregation
Parallels RAS supports data segregation in a multi-tenancy environment by allowing the creation of an unlimited number of independent sites inside the same farm. No applications, desktops, and data can be shared between sites, ensuring data protection. Multiple sites can be managed from the same instance of the Parallels RAS Console, streamlining the management of a multi-tenancy environment.

Clipboard Restriction
Organizations can avoid any unwanted data leakage from published applications by disabling paste and copy on the clipboard, reducing the risk that sensitive data such as credit card details or patient records can be stolen.

Client Policy
A client policy is a set of rules defined by the administrator to manage, control, and restrict the settings options available to users. The Parallels RAS Console provides IT administrators the ability to set the client policy from within.

---
Monitoring
Monitoring server, desktop, and application performance is critical to provide users with a seamless and productive UX. The Parallels RAS reporting engine transforms raw data into instant, visual, and intuitive reports, proving IT with an overview of their infrastructure at any time. Unlike other solutions, this feature is available with a standard license and does not entail any additional license cost.

Reporting Engine
The Parallels RAS Reporting Engine relies on Microsoft SQL Express or full edition (SSRS), enabling real-time reporting about the farm activities. By extracting raw data from the SQL database, Parallels RAS Reporting Engine creates detailed reports about the server usage, what devices are used, what applications are accessed, and more. By scanning these reports, organizations can enhance the performance of Parallels RAS and Windows server components.

---
Available Reports
The Parallels RAS Reporting Engine provides IT with insight about users, Active Directory (AD) groups, devices, servers, and applications activities.


Users Reports
Receive real-time information about the users connected to the Parallels RAS installation, the sessions activity, the devices connected, and the client OSes used. With this information, IT administrators can adjust the servers and devices availability to match the traffic requirements on the farm.

Group Reports
Users' activity can be also monitored at AD group level, providing insight into the group dynamics. By checking the group activity, IT admins can adjust the settings of the Parallels RAS installation to meet the different groups' requirements.

Device Reports
The devices report provides IT administrators with information on all the devices used on the Parallels RAS installation. IT administrators can plan for future expansion or development based on this report—for example, purchase the most commonly used device for future expansion.
Server Reports
Servers activity running on RD Session Host and VDI are monitored in this group of reports. Organizations can discover and remove bottlenecks by evaluating server sessions activity and reallocating the hardware resources.

Application Reports
Published applications usage on the Parallels RAS installation is monitored in this group of reports. IT administrators can track which applications are most commonly used, forecast the license consummation, or remove unused applications to save up hardware resources.
Parallels RAS Automation with Microsoft PowerShell
Parallels® Remote Application Server (RAS) PowerShell SDK allows IT admins to automate the provisioning and management of an entire Parallels RAS infrastructure. From adding new users, to provisioning applications, to updating groups of users, to the auto-creation of new servers—all the common tasks can be easily automated with PowerShell API. Additionally, the configurable notifications of the Parallels RAS Console allow IT staff to define PowerShell-based event handlers that react to the changes in a Parallels RAS deployment.
Flexible Management through Scripting
Using Parallels RAS PowerShell SDK is simple and straightforward. In addition, the "Get Help" option provides explanations about the use and structure of all the commands available. IT administrators can also use verbosity mode on the PowerShell window to monitor the processing and progress of scripts and actions for debugging and troubleshooting. Parallels RAS PowerShell SDK can be installed as a standalone component, allowing IT to connect and manage the farm from any location.
Management Tools
Parallels RAS PowerShell SDK tools empower IT to deploy and manage the farm, without interaction with the Parallels RAS Console.
Parallels RAS Quick Deployment Tool
It allows a quick farm deployment by automatically performing all the necessary actions. Starting from basic input details such as a Parallels My Account, domain administrator credentials, server address, and more , the tool creates the farm infrastructure.
Parallels RAS Session Management
IT staff can connect from any location to a Parallels RAS Farm by simply providing the server IP address and the administrator credentials. IT staff without the Parallels RAS Console can still monitor the sessions, the active applications on each session, send a message to a user, and disconnect or logoff a session.
Parallels RAS PowerShell SDK Command Groups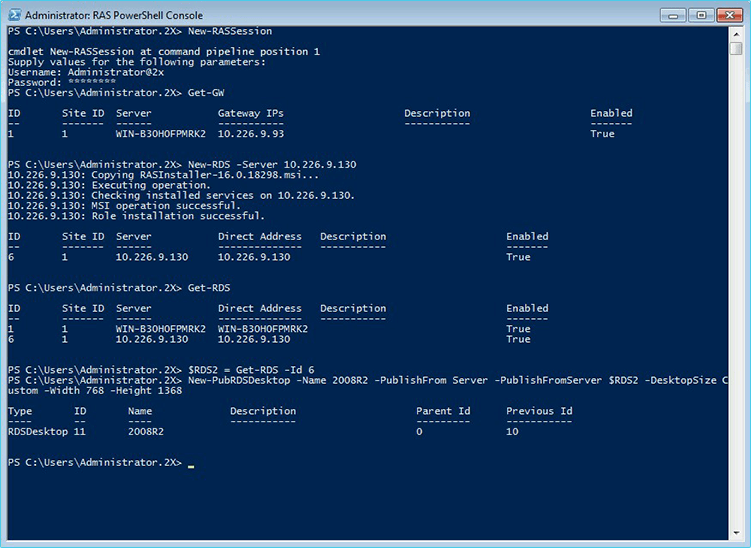 VDI commands
The commands used to create and modify a VDI Agent, a Parallels RAS Template, a VDI Host, and a VDI Guest. The IT administrator can make changes in the VDI infrastructure of the farm without the need of the Parallels RAS Console.

RDSH commands
The commands used to create and modify an RDS Host, an RDS Group, and schedule a job type are just a part of those currently available. IT administrators can create and deploy RDS servers and groups as well as schedule them when to go online or offline, allowing for better resource management.

Publishing Agent commands
The commands used to create and modify a Parallels RAS Publishing Agent as well as remove it. This way the IT administrator can dynamically manage the number of Parallels RAS Publishing Agents on the farm anytime from anywhere.

Gateway commands
The set of commands used to handle a Parallels RAS Secure Gateway, such as create, set, or remove a gateway. This provides a quick way to configure a gateway or set a backup if needed without using the Parallels RAS Console.

Security commands
IT administrators can change the multifactor identification settings and controls through the Parallels RAS PowerShell SDK, allowing them to dynamically change the identification method of the farm from anywhere.
Publishing commands
Commands to add published resources such as an application or a VDI desktop are available for IT administrators. Publish a new application while you work remotely with no hassle.
VM commands
Commands to start, stop, suspend and restart a virtual machine (VM) in a farm are available through the Parallels RAS PowerShell SDK. IT administrators can manage the number of VMs currently running on a farm or restart a VM if needed.
What Is Microsoft PowerShell?
Microsoft PowerShell is a Microsoft .NET Framework-connected environment designed for administrative automation. Windows PowerShell provides an approach to building commands, composing solutions, and creating graphical user interface-based management tools.
Microsoft PowerShell's capabilities enable an IT administrator to simplify and automate tedious and repetitive tasks for the administration of system resources by creating scripts and combining multiple commands (scripts) together.
The Microsoft PowerShell task automation and configuration management framework has long been associated with core Microsoft workloads; it provides access to everything from Azure Stack to Windows 10. From mid-2016, it's also a cross-platform open source shell and scripting tool.