Parallels RAS
Remote Application Delivery and VDI can be complex and expensive—unless you are one of the thousands of businesses that use Parallels RAS to remotely deliver applications and desktops to their employees.
Easy to Use, Flexible, and Secure
Parallels RAS is a cost-effective application delivery and VDI solution, that allows your employees to access and use applications, desktops and data from any device. Easy to deploy, configure, and maintain, Parallels RAS provides organizations with a seamless application delivery and VDI experience while reducing TCO and improving security.
Seamless End User Experience
Deliver applications, desktops, and data to any user, regardless of operating system or device. Parallels Client is available for Windows, Linux, Mac®, iOS, Android, Thin Client, Chromebook™, Raspberry Pi and any HTML5 web browser. Service Provider organizations such as MSPs and ISVs can brand Parallels Client for Windows and HTML5. On-the-go access allows employees to be as productive as if they were working from the office.
Technology Agility
rallels RAS flexible and scalable architecture enables organizations to quickly adapt to the continuous workplace changes and demands for new applications or desktop types.
Straight-forward Management
Parallels RAS Console provides a single pane of glass for IT to easily manage, and scale the complete infrastructure. Traffic light indicators provide instant snapshots on the health of each component.
Easy Migration
Migration from 3rd part solutions such as Citrix XenApp, VMware Horizon, or Dell vWorkspace is easy, straightforward, and interruption-free for employees. 
Download Citrix Xenapp Migration Tool
Monitoring and Reporting
The Parallels RAS monitoring and reporting service transforms raw data into visual reports that can show traffic and resource usage from Microsoft RDSHand VDI. These reports can assist in future development of the organization infrastructure. Unlike other solutions, this feature is available with a standard license with no additional cost. Learn More
Pervasive Security
Parallels RAS contributes to securing corporate assets from data leakage and malicious activity with highly granular permission policies, combined with SSL and FIPS 140-2 encryption as well as multi-factor and smart card authentication.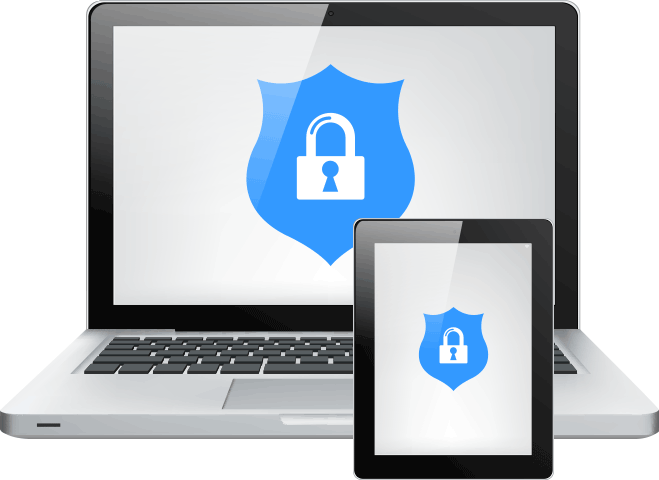 What's New in Parallels RAS v16.5
Version 16.5 streamlines the deployment and management of your farm with auto-provisioned RDS hosts, Microsoft APP-V integration, and Parallels RAS PowerShell SDK.
Scale Computing HC3 Support
Parallels RAS 16.5.3 supports Scale Computing's HC3, a new hyperconverged infrastructure solution that combines compute, storage, virtualization, backup, and disaster recovery in a single appliance.

KVM-Based Hypervisor
HC3 uses Scale Computing's own KVM-based hypervisor, positioning itself as a cost-effective, easy-to-use hyperconverged solution—qualities that perfectly match those of Parallels RAS.
This new capability essentially allows Parallels RAS to spin up and manage VMs through Scale Computing HC3 API.
Windows 10 Multi-Session Future Support
Parallels is planning to extend and enrich the Microsoft Windows Virtual Desktop (WVD) platform to enable organizations to:
Unify their desktop and application delivery infrastructure.
Workloads both within and outside WVD can be managed and maintained via Parallels RAS.
Improve IT Management
Provide more functionality for IT admins through the Parallels RAS Console.
Manage, maintain, and monitor the entire infrastructure from a single console.
Extend WVD Capabilities
(particularly in deployment scenarios)
Bring together WVD workloads (such as Windows 10 on Azure and extended Windows 7 support) with workloads from other clouds, including multi-clouds or hybrid clouds.
Accelerate Cloud Migrations & Adoption
Through its ability to support multi-cloud deployments, Parallels RAS will allow customers to combine the strengths of traditional deployments and WVD to accelerate cloud migrations and adoptions.
Delegated Control of Session Management
Version 16.5.3 of Parallels RAS introduces a new administrative account level, Custom Administrator. This new level is in addition to the Root Administrator and Site Administrator.

Implementing a Custom Administrator account allows IT to restrict the session management for specific user groups, providing simplified session management while increasing security.

This feature provides Citrix users a great alternative, at a fraction of the cost. It keeps infrastructure intact without extra resource requirements or complex configurations.

Straightforward VDI Deployment
In version 16.5.3, the Parallels RAS VDI Agent is included with the installation of the Publishing Agent (PA), and it can also be installed as a separate component. The new architecture simplifies the deployment and the management of the VDI hosts, allowing you to administer multiple VDI hosts through a single VDI agent. (Before, the ratio was one-to-one.)
Parallels RDSH Template Cloning
The Parallels RAS Template is re-designed to allow for RDSH template cloning. IT administrators are now able to deploy RDSH servers automatically using the RDSH Template function. Moreover, organizations are able to regulate the load on the Parallels RAS Farm dynamically by creating, removing, or employing RDSH servers on demand, automatically.
Learn More
Parallels RAS Console Improvements

Site View

The Site Info tab has been modified to offer an interactive dashboard that provides an overview of the site components' status, quickly recognizable by colored boxes. A traffic-light color code (green, orange, and red) is configurable based on parameters such as CPU usage, users, and Publishing Agent (PA) status. Visible at an individual or group level, the colored boxes provide an immediate understanding of the health of the site component. For example, if an Agent component value is not in the green range, the whole group will become red. Additionally, the Designer tab has been moved from the menu (located on the left side) to the Site tab.

Centralized Management

The Parallels RAS Agents on multiple servers can now be updated through the Parallels RAS Console by either group, separately or all together in a single window.

Revert Changes

Version 16.5.3 introduces the ability to revert changes made in the farm. IT admins can now scroll through the event log and are able to view any change made in the farm and revert it to a previous state. Filters can be applied on the list to make it easier to find.
Enhanced System Notifications with Ability to Deploy Scripts
More performance counters—such as the grace period, CPU usage, and more—have been added to trigger notification messages. In addition, you can now execute a custom script when a configured value is outside the predefined range.

Microsoft PowerShell API Additions
In version 16.5.3, we have implemented new commands to enable IT administrators to perform a complete installation and/or configuration of a Parallels RAS Farm from the PowerShell API.

PowerShell Addition
Parallels RAS deployments and updates can be automated using PowerShell scripts, including installation, settings, and updates. Most of the essential functions can be performed via the PowerShell API by using PowerShell cmdlets with the corresponding parameters.
Improved UX on Mobile Client
The new design of Parallels Client for iOS and Android provides users with a modern and productive UX while delivering intuitive and quick access to remote applications and desktops.

Quick Local Screen Zoom (iOS and Android)
By double tapping in the lower part of the Dumbo mouse located on the client screen, users can zoom in or out. Users can now quickly zoom in and out by just tapping on the screen of their device.
Keyboard Handling Improvements (iOS and Android)
While the user is working in a file or document with text input, we added the ability to pin and unpin the keyboard on the screen. This is useful when the user wants the keyboard to stay pinned on the device screen even without active input. In addition, a new button is implemented on the Parallels Client for a mobile device's keyboard. When clicked, it opens a text box to allow the user to enter text and then send the whole string to the application running on the remote server. This is handy on a slow connection or on a small phone screen, since it is more convenient to edit a sentence locally on the device.
Automatic Session Logoff and Time-out (iOS and Android)
The session time-out configured on the Parallels RAS Console will now also apply to mobile client. Organizations can now avoid having forgotten or inactive logins on the farm, which reserve resources for no reason.
Parallels HTML5 Client Optimization
The Parallels HTML5 Client has been re-designed and optimized to offer a dynamic, modern, and web-based workspace. Version 16.5.3 improves the web-based UX by allowing employees to run simultaneously applications and desktops in tabs or in windows mode for a desktop-like experience. Applications running in windows mode can be minimized, and the active ones will be marked in the task bar. Client Policy is now applicable to Parallels HTML5 Client, reducing the risk of data leakage and malicious attacks.

Session Persistency
The Parallels HTML5 Client sessions can now be persistent to a specific user by the usage of an HTTP cookie. Session persistence refers to directing a client's requests to the publishing server for the duration of a "session" or the time it takes to complete a task or transaction. The HTTP cookie will allow the session to be persistent, enabling the user to connect from a different network with a different IP address and continue working on the session.
Application Grouping
In version 16.5.3, we improved the UX by enabling users to either group multiple instances of the same application into a single icon or display them separately on the session task bar like the Windows10 taskbar feature.
Drag and Drop
Drag and Drop functionality has been added to the Parallels HTML5 Client. This feature will enable users to easily transfer files between the local device and the Parallels HTML5 Client session.
Application Handling in Tabs
Published applications and desktops can now be opened either in a single browser tab with a session task bar or in a new tab, improving users' productivity with a native-like web browser experience.
Parallels Client for Windows

Customization
Customization capabilities have been added to the Parallels Client for Windows. Organizations are now able to change the default logo and color theme to customize the user experience.
Learn More
Password Policy
The corporate password policy requirements are now visible in the Parallels Client, simplifying password updates and changes. When users change their domain passwords, they are presented with the password requirements for their user account. This allows them to easily come up with a password that complies with the password policy.
Enhancement of the Client Policy
In version 16.5.3, the Client policies are split down in 14 groups with more detailed options. The policies are re-designed to provide more in-depth control over users' access on the farm, enabling IT administrators to restrict or allow access and set specific settings, securing corporate data on the farm. Learn More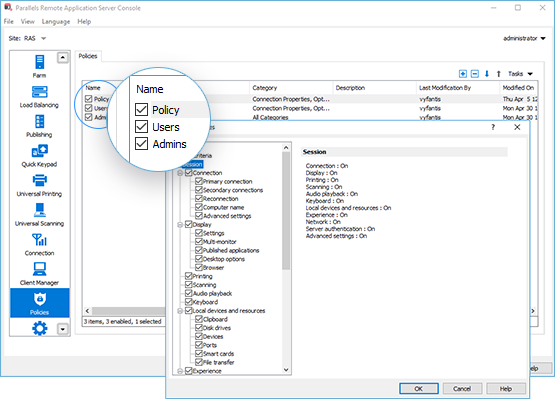 Connection (Primary connection, Secondary connection, Reconnection, Computer name, Advanced settings)
Display (Settings, Multi-monitor, Published applications, Desktop options, HTML5)
Printing
Scanning
Audio playback
Keyboard
Local devices and resources (Clipboard, Disk drives, Devices, Ports, Smart cards, File transfer)
Experience (Performance, Compression)
Network
Server authentication
Advanced (Session advanced settings)
Client options (Connection, Update, PC keyboard, Single sign-on)
Advanced (Global, Language, Printing, Windows client)
Control settings (Connections, Password, Import and Export)
Redirection

FIPS 140-2 Compliance
Parallels RAS 16.5.3 now supports FIPS 140-2 encryption, enabling organizations to adhere to data compliance regulations. FIPS 140-2 is mainly used in the United States for regulated industries such as financial and healthcare institutions.
Streamlined Multifactor Authentication
Version 16.5.3 makes it easy to configure multifactor authentication (MFA) via RADIUS for Microsoft Azure MFA, Duo, and FortiAuthenticator. Azure MFA is now natively supported by Parallels RAS, helping to increase data security and reducing the risk of unwanted data access.

More Parallels RAS Counters
More counters have been added for a deeper overview of the Parallels RAS site performance. Those counters are exposed to the system's performance, so they can be used by the Parallels RAS Performance Monitor and other third-party performance monitoring solutions.
Performance Monitor
Parallels RAS Performance Monitor is a lightweight web-based application that allows administrators to gain real-time insights into key performance metrics for Parallels RAS and Windows server-hosting Parallels RAS components. The new counters are added to Parallels RAS Performance Monitor.
Microsoft App-V Integration
Parallels RAS v16.5.3 introduces integration with Microsoft App-V, allowing administrators to publish packaged applications. This reduces the need to remediate application conflicts that rely on App-V separation and isolation capabilities to run applications on the operating systems. Application updates can be delivered from a central location, streaming the delivery directly to the servers. In addition, App-V's structure RDS CALs are automatically included in the license; no separate license for RDS CALs is required. Learn More